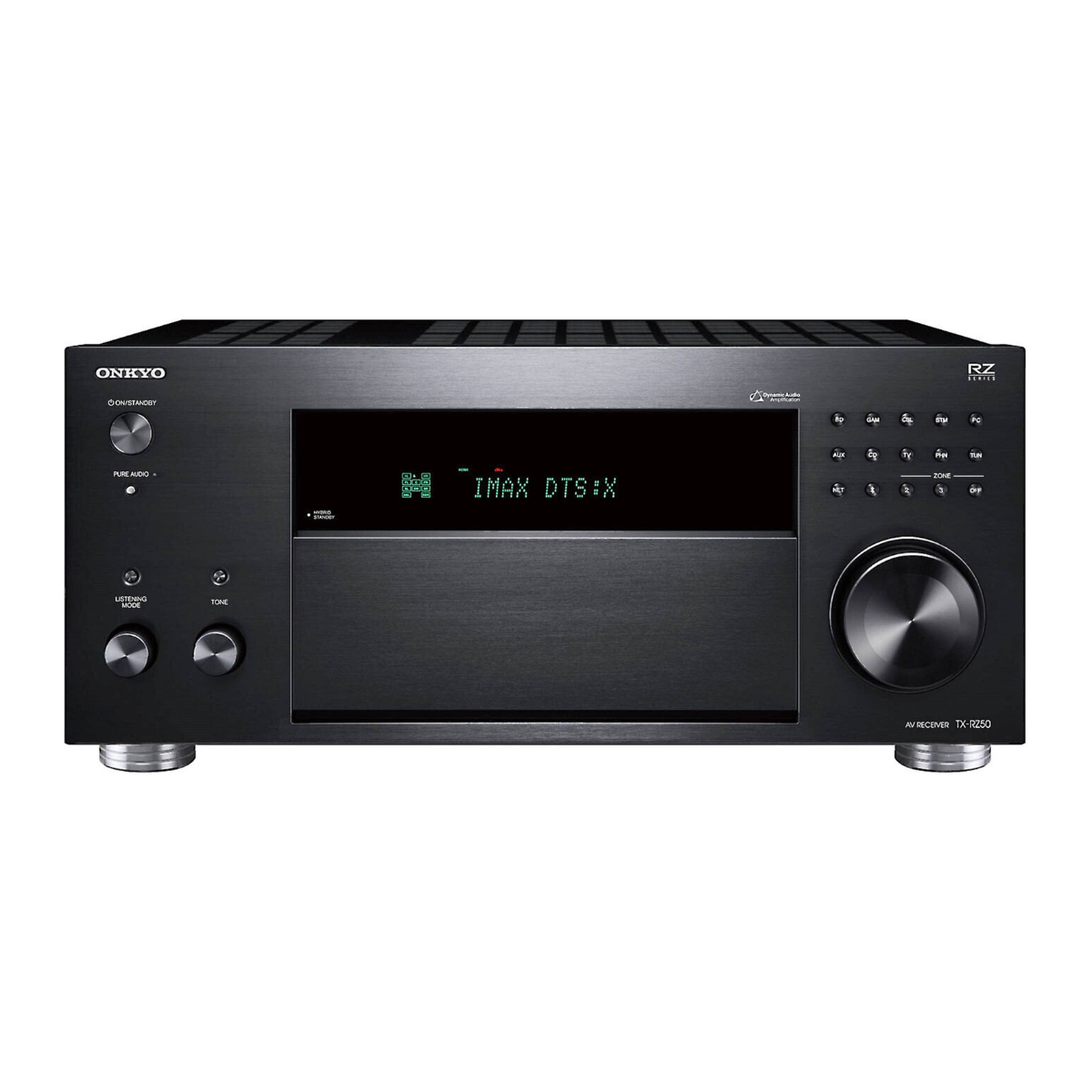 Onkyo TX-RZ50 9.2 Channel Dolby Atmos 8K Av Receiver
Price: Rs.182,000
Enquire Now
TX-RZ50
9.2-Channel THX Certified AV Receiver
The TX-RZ50 delivers enormous power on-demand to highlight every nuance of the music, movies, and games you love.
Product features:
The Onkyo TX-RZ50 is a high-end 9.2 channel AV receiver that offers exceptional audio and video performance, with support for Dolby Atmos and 8K resolution. With its robust feature set and advanced technologies, it aims to provide an immersive home theater experience.
One of the standout features of the TX-RZ50 is its support for Dolby Atmos, a cutting-edge audio technology that creates a three-dimensional sound experience. With Dolby Atmos, sound objects can be precisely placed in a three-dimensional space, resulting in a more realistic and immersive audio experience. This receiver supports up to a 9.2 channel configuration, allowing you to create a truly enveloping soundstage in your home theatre.
Onkyo TX-RZ50 9.2 Channel Dolby Atmos 8K Av Receiver Price in India - Rs. 182,000 including GST. No additional charges.
Free Shipping Across India.
Authorised Dealer
Lowest-Price Guarantee - Our Prices Beat The Competition
100% Secure Payments | 100% Genuine product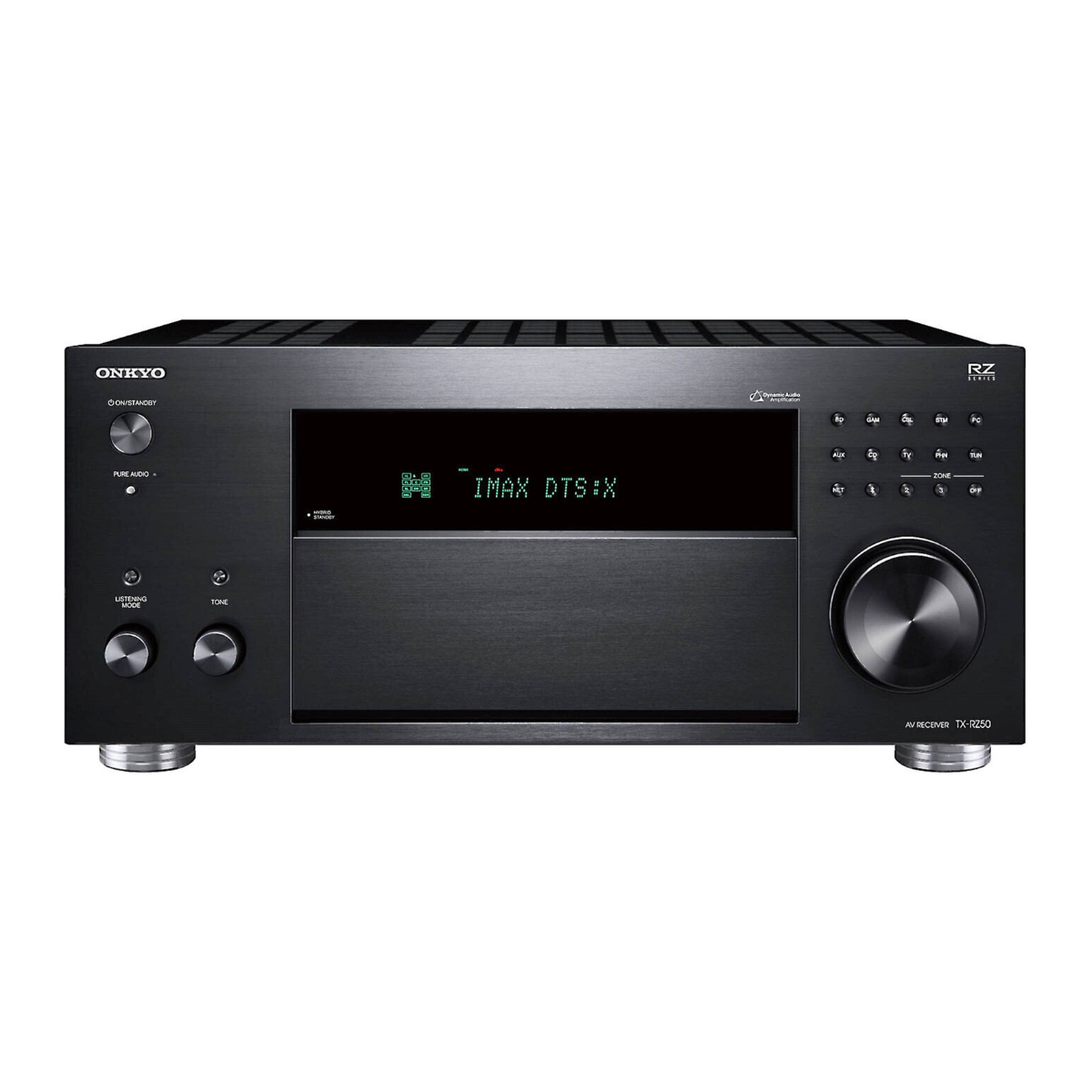 "Thanks to an extensive feature set, including full-bandwidth Dirac Live for in-depth calibration, Onkyo's TX-RZ50 receiver offers impressive value for money."
READ MORE
Take the room out of the equation
State-of-the-art Dirac Live Room Correction technology unlocks your loudspeakers' full potential, improving audio performance across the full frequency band without additional upgrades. Dirac Live automatically calibrates sound in your room using either your smartphone and the included wired mic or virtually wireless with the Dirac Live PC or MacOS* application and a 3rd party USB mic (not included). Now, you'll get a more accurate measurement of your surround sound system's positioning to be more precise and balanced, providing a better result with the increased upper limit of delay time from 20 to 50 milliseconds.
*Device must be connected to the internet and the same network as your AVR
11.2-Channel Processing
The TX-RZ50 features up to 11.2 channel processing and pre-outs for 7.2.4 system layouts, making it an ideal choice for your premium home theater setup.
HDMI 2.1 with 8K
HDMI® 2.1 is the most recent update of the HDMI® spec and supports eARC, a range of higher video resolutions and refresh rates including 8K60 and 4K120, and Dynamic HDR formats. 8K delivers a super-immersive viewing experience with 2x the horizontal and vertical resolution of 4K, and 4 times as many pixels; and combined with 60Hz refresh rate enables smooth and sharp viewing of content with high-speed action. HDMI 2.1 with 8K and eARC ensures your system is ready for the clearest and cleanest picture available both now and down the road.
Additional Features and Benefits
ULTIMATE 4K GAMING EXPERIENCE
4K/120 enables ultra-fast motion UHD images to be crisp and razor-sharp; and sports, action movies, and high-performance gaming benefit significantly. The TX-RZ50 supports higher performance from streaming devices like the latest Apple TV.
DISCRETE ZONE 2 HDMI SWITCHING
Set up different Ultra High-Definition entertainment options with up to 8K60 resolution* in two different rooms from your Onkyo receiver. Watch a movie in the home theater, while the kids watch cartoons in their playroom.*
*8K60 only valid for Zone 1/Zone 2 will only produce 4K120 resolution when two separate HDMI sources are used.
THX CERTIFIED
In 1993, Onkyo became the first consumer home theater electronics brand to be THX-certified. With literally thousands of tests, before earning the THX-certification logo: no matter what input is used, no matter what combination of the many built-in features for the AVR, preamplifier, or amplifier, there can be absolutely nothing added, nothing taken away from the source material. The TX-RZ50 offers four distinct THX listening modes: cinema, gaming, music, and surround EX.
IMAX ENHANCED MODE
A vital component of today's premium home theater experience, this IMAX Enhanced certified AVR replicates the immersive audio and visual quality of IMAX theaters from the comfort of your living room. By allowing object-based audio to be precisely placed and moved in 3D space, in combination with proprietary algorithms optimizing video quality, you'll experience a vibrant, lifelike experience just as the filmmaker intended.
BUILT-IN MULTI-ZONE STREAMING AND VOICE CONTROL
The Onkyo TX-RZ50 9.2-Channel THX® Certified AV Receiver easily integrates into your existing Smart Home ecosystem, including Apple Airplay, Alexa, Google apps, and more. You get a highly capable and compatible network device that can stream your favorites wherever you want in your home with up to 8K60 resolution.**
*A third-party AI device is required for voice commands - sold separately
***8K60 only valid for Zone 1/Zone 2 will only produce 4K120 resolution when two separate HDMI sources are used
WORKS WITH SONOS CERTIFIED
This Onkyo receiver can join your existing Sonos Home Sound System, or be the start of a new one, just by pairing it with a Sonos Port* This Works With Sonos Certified AVR offers a best-in-class tie-in to the Sonos ecosystem, waking, changing inputs, and playing at the volume you want using the Sonos Volume-Pass Through feature from the Sonos app*. The TX-RZ50 can work with up to three Sonos Ports—one for each of three independent zones—each playing a completely different streaming service from Sonos Radio.
*Sonos Port required and sold separately.
BUILT-IN STREAMING SERVICES
Access to Spotify®, TIDAL, Deezer, TuneIn, and Pandora® are built into the system. Use dedicated apps (where available) or the free Onkyo Control App for Apple and Android devices to find and play music.
BI-DIRECTIONAL BLUETOOTH WIRELESS TECHNOLOGY
This Onkyo AVR can send and receive audio via Bluetooth wireless technology. Stream from your device to the receiver using SBC or AAC codecs, or transmit audio playing through the AVR to compatible wireless headphones using SBC, aptX™, or aptX HD codecs including 24-bit audio over aptX HD. The improved data transfer capabilities of the latest generation of Bluetooth ensure clear and reliable sound reproduction so you hear your favorite songs just as the recording engineer intended.
READY FOR DTS PLAY-FI
DTS Play-Fi allows you to enjoy high-quality music from connected online services, networked media servers, and your device library over Wi-Fi® to any number of compatible products using the Onkyo Music Control App for iPad, iPhone, and Android smartphones/tablets. DTS Play-Fi can synchronize the music in every room. Each member of your family can use their own device to listen to their music in a room or group of rooms. DTS Play-Fi lets you structure a comprehensive multi-room ecosystem that satisfies virtually any need.
Features
PRODUCT HIGHLIGHTS
| | |
| --- | --- |
| 250 W/Ch THX® Certified Select RZ Series Dynamic Audio Amplification | ? |
| IMAX® Enhanced certified for immersive signature sound by DTS:X® | ? |
| 11.2-ch processing and pre-outs for 7.2.4 layouts | ? |
| Supports Dirac Live® Room Correction | 20Hz to 20kHz |
| AccuReflex phase-matching solution for Atmos-enabled speakers | ? |
| SMART AV Receiver™ | Works with Sonos, Chromecast built-in™, AirPlay 2, and DTS Play-Fi®; includes Spotify®, Amazon Music HD, Pandora®, TIDAL, Deezer, and TuneIn streaming services |
| Works with Hey Google or Alexa | Sold separately |
| Stream over 5 GHz/2.4 GHz dual-band Wi-Fi® supporting the 802.11ac standard | ? |
| HDMI® inputs | Inputs 1-3 and Main/Sub out support 8K/60AB and 4K/120AB. Inputs 4-6 support 8K/60B and 4K/120AB. Front HDMI Input supports up to 4K/60 (HDMI 2.0). |
| HDMI 2.1 | HDMI 2.1 features that are supported on HDMI inputs 1–6, Main Out, and Sub/Zone 2 Out in Sub Mode output including VRR, ALLM, QFT (Quick Frame Transport), DSC (Display Stream Compression), QMS (Quick Media Switching), and eARC (Main Out). |
| HDMI Sub/Zone 2 Out for media transmission to a second display | ? |
| Send or receive audio via Bluetooth® wireless technology | RX mode: SBC/AAC, TX mode: SBC/Qualcomm® aptX™/ aptX HD |
| Refined chassis, HDMI board, DAC, Digital/Analog inputs, power-amp grounds and power lines | ? |
| 5.2-ch Main + Powered Zone 2 + Powered Zone 3 speakers support synced/independent D/A audio playback | ? |
| Zone 2/Zone B line-out*7 (analog RCA) supports synced or independent D/A playback*8 on compatible audio systems or headphone docks | ? |
Specs
AMPLIFIER
| | |
| --- | --- |
| Power output (All channels) | 250 W/Ch (6 ohms, 1 kHz, 10% THD, 1 channel driven) 120 W/Ch (8 ohms, 20 Hz–20 kHz, 0.08% THD, 2 channels driven, FTC) |
| Dynamic power | 250 W (3 ohms, Front) 220 W (4 ohms, Front) 130 W (8 ohms, Front) |
| THD+N (Total Harmonic Distortion + Noise) | 0.08% (20 Hz–20 kHz, half power) |
| Input sensitivity and impedance | 200 mV rms/47 k-ohms (Line) 3.5 mV rms/47 k-ohms (Phono MM) |
| Rated RCA output level and impedance | 1 V rms/470 ohms (Subwoofer pre-out) 200 mV rms/470 ohms (Zone 2/Zone B line-out) |
| Frequency response | 5 Hz–100 kHz/+1 dB, -3 dB (Direct Mode) |
| Tone control | ±10 dB, 20 Hz (Bass) ±10 dB, 20 kHz (Treble) |
| Signal-to-noise ratio | 106 dB (Line, IHF-A) 80 dB (Phono, IHF-A) |
| Speaker impedance | 4–16 ohms |
TUNER
| | |
| --- | --- |
| FM | 87.5 MHz–107.9 MHz |
| AM | 530 kHz–1,710 kHz |
| FM/AM preset memory | 40 stations |
GENERAL
| | |
| --- | --- |
| Power supply | AC 120 V~, 60 Hz |
| Power consumption (operating) | 850 W |
| Power consumption (idle) | 75 W |
| Power consumption (standby) | 0.1 W |
| Dimensions (W x H x D) | 17 1/8? x 7 15/16? x 15 11/16? (435 x 201.5 x 398 mm) |
| Weight | 30.9 lbs. (14.0 kg) |
UPC CODE
CARTON
| | |
| --- | --- |
| Dimensions (W x H x D) | 22 7/16? x 13 3/16? x 19 5/16? (570 x 335 x 490 mm) |
| Weight | 37.5 lbs. (17.0 kg) |
ACCESSORIES INCLUDED
| | |
| --- | --- |
| Power cord | ? |
| Indoor FM antenna | ? |
| AM loop antenna | ? |
| Speaker setup microphone | ? |
| Quick Start Guide | ? |
| Remote control | ? |
| Two AAA (R03) batteries | ? |
Product Description
It has Advance Dolby Atmos with 9.2 Channel system.
It has 8K Resolution which enhance your cinema experience.
It has included Apple Airplay, Alexa, Google apps, and more.
It can send and receive audio via Bluetooth wireless technology.
It has DTS Play-Fi Function allows you to enjoy high-quality music from connected online services.
Immersive Dolby Atmos Experience
Support for 8K pass-through and upscaling, it can deliver stunning picture quality on compatible 8K displays Onkyo-TX-RZ50. Additionally, it supports HDR (High Dynamic Range) formats such as HDR10, HLG, and Dolby Vision, ensuring vibrant colors and enhanced contrast in your video content.
Crystal Clear 8K Video
The TX-RZ50 boasts a robust power output, delivering 120 watts per channel, allowing for dynamic and clear audio reproduction. It utilizes high-quality components and advanced digital signal processing to ensure accurate and faithful sound reproduction across a wide frequency range.
Powerful Audio Performance
The TX-RZ50 receiver supports HDMI eARC (Enhanced Audio Return Channel), which enables lossless audio transmission from your TV to the receiver, simplifying the setup and ensuring high-quality audio for your TV viewing.
Extensive Connectivity
The Onkyo receiver also offers network connectivity, allowing you to stream music from popular services such as Spotify, TIDAL, and Deezer. It supports multi-room audio, enabling you to distribute audio to different zones or speakers throughout your home.
Accurate Room Calibration
This system uses a provided microphone to measure your room's acoustic properties and automatically adjusts the audio settings to optimize sound quality Onkyo-RZ50. It helps compensate for room anomalies and ensures that you get the best possible audio performance in your specific environment.
Home Automation Integration
The TX-RZ50 by Onkyo features a sleek and modern design, with a sturdy build quality that reflects its high-end positioning. It comes with a comprehensive remote control and also supports integration with popular home automation systems, allowing you to control it through voice commands or a smartphone app.
IN THE BOX
Sales Package
Onkyo TX-RZ50 9.2 Channel Dolby Atmos 8K AV Receiver and User documentation
General
Brand
Onkyo
Model
TX-RZ50
Year
Color
black
Dimension
Dimension
435 x 201.5 x 398 mm
Weight
14.0 kg
Specification

Power output (All channels)

250 W/Ch (6 ohms, 1 kHz, 10% THD, 1 channel driven) 120 W/Ch (8 ohms, 20 Hz–20 kHz, 0.08% THD, 2 channels driven, FTC)

Dynamic power

250 W (3 ohms, Front) 220 W (4 ohms, Front) 130 W (8 ohms, Front)
THD+N (Total Harmonic Distortion + Noise)
0.08% (20 Hz–20 kHz, half power)
Input sensitivity and impedance
200 mV rms/47 k-ohms (Line) 3.5 mV rms/47 k-ohms (Phono MM)
Rated RCA output level and impedance
1 V rms/470 ohms (Subwoofer pre-out) 200 mV rms/470 ohms (Zone 2/Zone B line-out)
Frequency response
5 Hz–100 kHz/+1 dB, -3 dB (Direct Mode)
Tone control
±10 dB, 20 Hz (Bass) ±10 dB, 20 kHz (Treble)
Signal-to-noise ratio
106 dB (Line, IHF-A) 80 dB (Phono, IHF-A)
Speaker impedance
4–16 ohms
FM

87.5 MHz–107.9 MHz

AM
530 kHz–1,710 kHz

FM/AM preset memory

40 stations
Power supply
AC 120 V~, 60 Hz
Power consumption (operating)
850 W
Power consumption (idle)

75 W

Power consumption (standby)

0.1 W

Power cord
Yes

Indoor FM antenna

Yes
AM loop antenna
Yes
Speaker setup microphone
Yes

Quick Start Guide

Yes
Remote control
Yes
Warranty
Warranty Type
official Manufacturer warranty
Write a Review
Onkyo TX-RZ50 9.2 Channel Dolby Atmos 8K Av Receiver Review
---
You May Also Like
About Us
Since 1998, Urbandac has been a trusted name in hi-end audio services. With 25 years of industry experience, partnerships with 50+ hi-end brands, and a satisfied client base of 12,000+ across India, we're committed to excellence. Our services include repair, sales, and exchange of a wide range of products like Marantz, Denon, Bose, and more. We also install home theater systems, AVRs, speakers, and other essentials. On top of that, we specialize in home theater design, stereo setup, automation, acoustics, and AV consultancy. A complete range of hi-end audiovisual services under one roof
Our Contacts
1324, 1st Floor Sector 46 Gurgaon
Delhi NCR 122003
+91 9313235774, +91 8130089774, +91-1243618106
info@eleser.in, parasher.s95@gmail.com