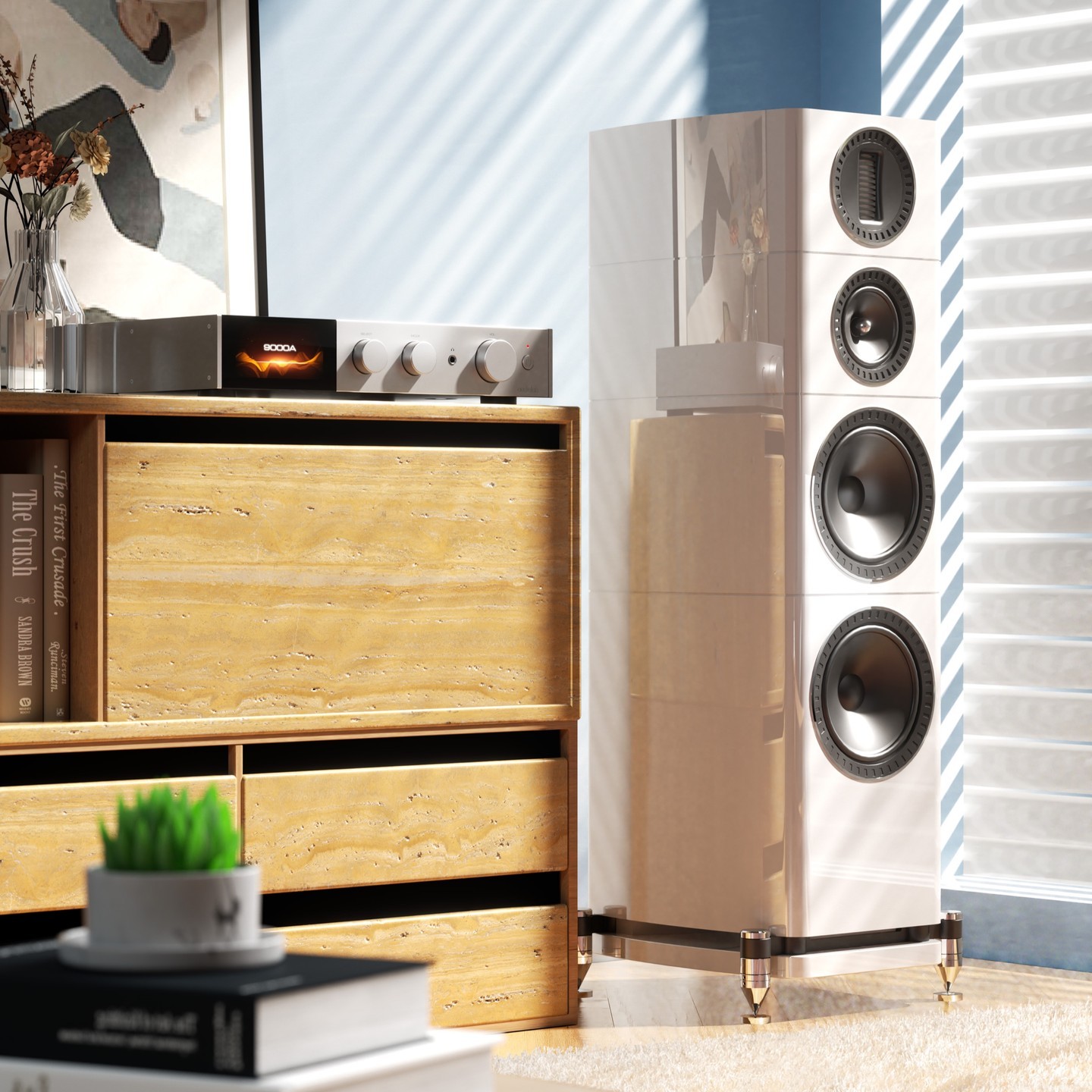 ---
Wharfedale
Wharfedale Bookshelf Speakers
Wharfedale Floorstanding Speakers
Wharfedale Center Speakers
Wharfedale Ceiling Speakers
Wharfedale Diamond Series
Wharfedale Evo Series
Wharfedale is a British loudspeaker manufacturer that has been producing high-quality speakers since the 1930s. The company is known for its innovative designs.
UrbanDAC is Wharfedale Dealer in India, Buy Latest Wharfedale Floorstanding, Bookshelf, Ceiling Speakers and more from UrbanDAC
Free Shipping Across India
Get in touch Today
Welcome to the World of Wharfedale at UrbanDAC
Wharfedale has been a cornerstone in the audio industry since 1932, offering a range of high-fidelity products that bring your music and sound to life. At UrbanDAC, we are proud to feature this iconic brand.
A Brief History of Wharfedale
Founded in the United Kingdom, Wharfedale has been a pioneer in audio excellence for nearly 90 years. Their mission has always been to make the music you love sound even better.
Britain has long been recognized throughout the world as being the home of loudspeaker technology in terms of innovation and quality. This reputation has built up over many years by some of the world's most famous loudspeaker manufacturers. Wharfedale, established over seventy years ago has always been at the forefront of developing this reputation. Gilbert Briggs built his very first loudspeaker in the cellar of his home in Ilkley, Yorkshire. This sleepy little market town was located in the valley of the river "Wharfe" - an area known to this day as 'Wharfedale'. This unlikely location would see the birth of a brand that was to become recognized all over the world, synonymous with quality in high-fidelity reproduction. Gilbert Briggs is still much admired and respected throughout the world for his pioneering work in hi-fi reproduction and his endless pursuit of better sound quality – driven by his love of live music.
For most other manufacturers, loudspeaker design is full of compromise. More often than not, it's a case of taking whichever drive units are available from the various manufacturers, designing a cabinet which someone else builds and designing a crossover which compensates for the differences between drivers and between driver and cabinet. Even large, well-known manufacturers that claim to have revolutionary designs are often just assembling parts built by someone else.
Wharfedale today is part of the International Audio group – one of the largest manufacturers of audio products in the world – and certainly the most vertically integrated.
The flow through our 1.5 million square foot factory from raw material to finished product is well choreographed with quality control check-points at every stage throughout the process. Because we design and manufacture our own crossover PCBs and crossover components, we are able to maintain the highest standards of performance. Wharfedale is probably the most complete designer and manufacturer of hi-fi loudspeakers in the world today. Our expertise is put to the best use in designing ranges which both excel in performance and build. We use the highest quality components and offer you the best value you will find in audio.
The Significance of High-Fidelity Audio
High-fidelity audio isn't just a luxury; it's a journey into the depths of sound. It allows you to experience music in its purest form, capturing every note, every beat, and every breath.
Why Wharfedale Stands Out in the Audio Industry
Wharfedale combines British engineering with cutting-edge technology to create products that deliver pure and natural sound. It's no wonder audiophiles around the world trust this brand for an unparalleled audio experience.
Featured Wharfedale Products
Wharfedale Diamond 12.1 - Bookshelf Speakers
These compact bookshelf speakers offer a powerful output and crystal-clear audio. They are highly rated for durability and sound quality, and come at a competitive price point.
Wharfedale LINTON Heritage - Standmount Speakers
These speakers offer a classic aesthetic combined with modern audio engineering. They are a premium product that provides a rich sound and vintage charm, loved by many of our customers.
Wharfedale EVO 4.4 - Floorstanding Speakers
These floorstanding speakers feature advanced AMT tweeters for a detailed and dynamic audio experience. They offer great value for the features they provide and are praised for their deep bass and clear highs.
Explore Our Wharfedale Product Categories
Bookshelf Speakers

Experience audio like never before with our range of Wharfedale bookshelf speakers, designed for both casual listeners and hardcore audiophiles.

Floorstanding Speakers

Whether you're looking for speakers for your living room or a dedicated audio room, Wharfedale has got you covered with products that deliver clean and balanced sound.

Center Channel Speakers

Enhance your home theater setup with Wharfedale's high-quality center channel speakers that support various audio formats.

Subwoofers

From compact to powerful, Wharfedale offers a range of subwoofers to suit your space and needs.

Soundbars

Upgrade your TV audio with Wharfedale's range of soundbars, designed for audiophiles who demand the best.
Why Choose Wharfedale?
Superior Sound Quality

Wharfedale products are engineered to deliver a sound that is as close to the original recording as possible.

Innovative Design

With a focus on minimalistic British design, Wharfedale products are not just functional but also aesthetically pleasing.

Wide Range of Products

From bookshelf speakers to floorstanding speakers to soundbars, Wharfedale offers a wide range of products to suit every audiophile's needs.
Frequently Asked Questions
What makes Wharfedale speakers unique?

Wharfedale stands out for its commitment to pure, unadulterated sound. Their products are designed to let you hear music exactly as the artist intended.

How do I select the right Wharfedale speaker for my needs?

Consider your primary use case, be it music listening, home cinema, or a mix of both, and choose a product that aligns with your audio needs.

What is Wharfedale's warranty policy?

All Wharfedale products come with a manufacturer's warranty, ensuring peace of mind for your investment.

How do I set up my Wharfedale speakers?

Each product comes with a detailed user manual for easy setup, and our team at UrbanDAC is always here to assist you.

Can Wharfedale speakers be integrated into a multi-brand audio system?

Yes, Wharfedale products are designed to be versatile and can easily integrate with other high-quality audio systems.
What Our Customers Are Saying
"The sound quality of my Wharfedale Diamond 12.1 speakers is beyond amazing. I can hear every instrument clearly, and it feels like I'm at a live concert."

- Satisfied Customer
"The Wharfedale LINTON Heritage speakers are a perfect blend of vintage design and modern technology. They not only look good but sound incredible."

- Happy Audiophile
Contact Us
1324, 1st Floor Sector 46 Gurgaon, Gurugram, Haryana 122003
Phone: +91 9313235774, 124-4084924
Email: parasher.s95@gmail.com
Ready to Elevate Your Audio Experience?
Visit Our Store

Come down to our store to experience Wharfedale products first-hand.

Contact Us for a Personalized Consultation

Not sure what you need? Our experts are here to guide you.

Follow Us on Social Media

Stay updated with the latest products and offers by following us on social media.

Instagram
Buy brand new & 100% genuine Wharfedale speakers from India's official online dealer at a special offer price with a manufacturer's warranty.
Wharfedale is a British loudspeaker manufacturer that has been producing high-quality speakers since the 1930s. The company is known for its innovative designs and use of advanced technologies to deliver exceptional sound quality.
Wharfedale offers many speaker models to suit different needs and preferences, from compact bookshelf speakers to large floor-standing models. Many of their speakers feature advanced driver technology, such as the proprietary woven Kevlar cones, that deliver accurate and dynamic sound with low distortion.
Wharfedale is also known for its focus on aesthetics and design, with many of its speakers featuring sleek and stylish designs that blend seamlessly with any decor. Additionally, Wharfedale offers a range of finishes, including wood veneers and high-gloss lacquers, to match any style preference.
Overall, Wharfedale speakers are highly regarded by music enthusiasts and audiophiles for their exceptional sound quality, innovative design, and affordability. Whether you're looking for a pair of speakers for your home stereo system or a full surround sound setup for your home theatre, Wharfedale offers a wide range of options to suit your needs.
Wharfedale speakers have won multiple awards over the years, recognizing their outstanding sound quality, innovative design, and overall value. Here are some of the most notable awards that Wharfedale speakers have won:
What Hi-Fi? Awards: Wharfedale has won numerous awards from What Hi-Fi? one of the most respected publications in the audio industry. In recent years, the Diamond 225 bookshelf speakers, Diamond 11.1 & 12.1 bookshelf speakers, and Diamond 11.4 and 12.3 floor-standing speakers have all won What Hi-Fi? Awards for their exceptional sound quality and value.
EISA Awards: The European Imaging and Sound Association (EISA) is a group of over 50 leading audio and video magazines from around the world. In 2019-2020, Wharfedale's Linton Heritage speakers won the EISA award for Best Loudspeaker, recognizing their exceptional sound quality and vintage design.
Hi-Fi Choice Awards: Wharfedale has won several Hi-Fi Choice Awards over the years, including awards for the Diamond 225 bookshelf speakers and the Jade 7 floor-standing speakers. These awards recognize Wharfedale's commitment to delivering exceptional sound quality at an affordable price.
Stereophile Recommended Components: Wharfedale speakers have been featured in Stereophile's Recommended Components list, which is a comprehensive guide to the best audio equipment on the market. The Diamond 225 and Diamond 11.1 bookshelf speakers, as well as the Jade 3 and Jade 7 floor-standing speakers, have all been recommended by Stereophile for their outstanding performance.
These awards demonstrate that Wharfedale speakers are highly regarded by industry experts and consumers for their exceptional sound quality, innovative design, and overall value. Whether you're looking for a pair of bookshelf speakers or a full surround sound system, Wharfedale has a wide range of options to suit your needs and budget.
About Us
Since 1998, Urbandac has been a trusted name in hi-end audio services. With 25 years of industry experience, partnerships with 50+ hi-end brands, and a satisfied client base of 12,000+ across India, we're committed to excellence. Our services include repair, sales, and exchange of a wide range of products like Marantz, Denon, Bose, and more. We also install home theater systems, AVRs, speakers, and other essentials. On top of that, we specialize in home theater design, stereo setup, automation, acoustics, and AV consultancy. A complete range of hi-end audiovisual services under one roof
Our Contacts
1324, 1st Floor Sector 46 Gurgaon
Delhi NCR 122003
+91 9313235774, +91 8130089774, +91-1243618106
info@eleser.in, parasher.s95@gmail.com